&nbsc: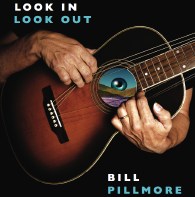 Look In Look Out
Words and music by Bill Pillmore. Produced by Dan Phelps. Recorded and mixed by Bill Pillmore at RoadWorm Studios, St. Augustine, FL, USA. Mastered by Matt Sandoski - Airshow Mastering, Boulder, CO. Photography by Tammy Krivanek. Album art and design by Mark Moran.
MP3's

©2005 RoadWorm Music - ASCAP.




Musicians:

Craig Barnett - Drums and Percusion.
Farris Nix - Upright and Electric Bass.
Dan Phelps - Electric Guitars and Ambiances.
Bill Pillmore - Acoustic Guitar, Keyboards, Lap Steel and Vocals.
Background Vocals - The Wormettes - Jo and Jess Pillmore.
The Linda Minke Violin and Cello Trio on "Angles Wings" written and arranged by Bill Pillmore
The Prefontaine Woodwinds on "Petty Crimes" written and arranged by Dan Phelps.
Additional Drums and Bass - Dan Phelps on "Petty Crimes".
Additional Percusion - Dan Phelps on "Fly Away with Me" and "Somebody's Baby" .
Additional Percusion and Bass - Dan Phelps and Bill Pillmore on "Woman of the World" .
For those old Cowboy fans we (Scott Boyer, Tommy Talton, George Clark, Tom Wynn, Pete Kowlake, and myself) went back into the studio (Johnny Sandlin's Duct Tape Studio in Decatur, AL) and did four songs in three days for inclusion on the next Scott Boyer/Tommy Talton album on Rocking Camel Records. I wish I had some rough mixes to share but don't. There is a little story about it at: Cowboy Diaries Part One
New Demos I'm Working On